Links and Resources.
My kung fu school, Al Bender's Kung Fu Academy of New Jersey

, offers instruction in Northern Shaolin Ch'uan (Bei Shao Lin Quan), Taichi Ch'uan (Taiji Quan), and other systems of Chinese arts. I am proud to serve as an assistant instructor here.

My former fencing salle, Martinez Academy of Arms, offers instruction in European martial arts, particularly classical fencing and historical swordsmanship of the French, Italian, and Spanish traditions and systems.

My former karate dojang, Lawrenceville School Karate, which was affiliated with the World Tang Soo Do Association, can be reached via the New Jersey address listed on the site. I had the honor of serving as an assistant instructor while I attended that school.



Research Topics.

Fencing/Swordsmanship of Europe Glossary.
Kung fu and Fencing: A Brief Comparative Analysis.
Fencing Tempo: an Analysis in the Context of Contemporary Self-Defense Situations
Self-defense Concerns: Responding to a Grab. An Analysis of Possible Initial Responses to a Grab Attack.
Yin and Yang: An Analysis of Distinct Applications of the Taoist Concept of the Balanced Universe as demonstrated by Taiji Quan, Northern Shaolin Quan, and Tang Soo Do.
Topics Possibly Soon to Come: Under Construction.
Multimedia.
Xiao Xiao pt. 3 Amazing gif-animation choreography! This piece gets my vote as the best gif-animated kung-fu choreographed fight scene ever. ROCK ON!

Here are some photo's from the 1998 U.S. Wu Shu Kung-Fu Federation (USWSKF) Championships in Baltimore, MD.
Here I am with Master Hu Jiangqiang (pictured above, at right), the renowned wushu master and co-star with Jet Li in the Shaolin Temple classic kung fu film trilogy.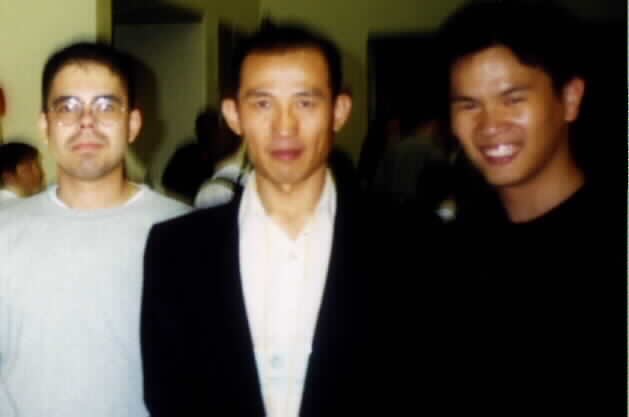 At the USWSKF Championships of 1998, my friend and kung-fu brother Ariel (above, left) and I had the honor of getting acquainted with Master Shawn Liu (pictured center, above), an authentic Shaolin Monk and master of Shaolin kung fu of the most traditional kind, including the 18 Fists of the Lohan, one of the earliest forms of kung fu taught by Ta Mo to his Shaolin disciples.
Cynthia Rothrock photographs:
Author with Cynthia Rothrock(left) posing at the Spring 2003 Chiller Theatre Convention in fighting stances. Yes Madam!
Cynthia Rothrock's publicity photo, autographed at the Spring 2003 Chiller Theatre Convention.
David Carradine:
Posing as Bill in a publicity still from Kill Bill (2003), which Mr. Carradine autographed at the Spring 2003 Chiller Theatre Convention.
Here are some shots of my March 28, 2004 competition performance of the Shaolin Jian (double-edged straight sword) form, for the Adult Men's Advanced Weapons division.
Rooster stance, point low.
Back kick, having completed an upward flip-cut behind.
Thanks goes to Steve for the two photographs linked above.