My Newsletter / Weblog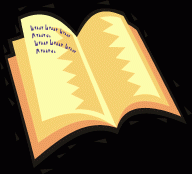 11-16-2004 Here I am again, to update the wish list among other things. I don't need Susanna Clarke's book anyway; I received it for my birthday and I've finished it.

I hurt my knee a few weeks ago and it's still bothering me. There was a karate tournament scheduled for next Sunday, but I decided not to enter this time to give my knee a rest.

I've decided that I like "fishknuckles" as a euphemism.

Another martial-arts related comment: I attended a Ba Gua Zhang (a/k/a Ba Gua Palm, or Eight-Trigrams Palm) workshop a couple of Sundays ago, and jotted notes in my Palm Pilot (Zire71). Therefore, it is now my official ba gua Palm (Pilot).

9-28-2004 Usually when there's a kung fu tournament I mention it ahead of time in this weblog, and then once it's over I give a report. This time I neglected to give a heads-up about the kung fu tournament that took place this past Saturday, although I did post it on my calendar of events. Well, my failure to give advance mention reflects how my mind hasn't been on the tournament much, not the way I usually mentally prepare for these tournaments. Hence, it should not come to much surprise that I didn't land any medals this time. Well, that's not completely true. It was somewhat of a surprise because I performed my forms pretty well. Not 100%, but it was up there. I competed in Northern Shaolin Advanced empty hand, Northern Shaolin short weapons, and Northern Shaolin long weapons. I managed to pull of the forms without any major mistakes, but then again there were imperfections I cannot deny, that might not have happened had I put more time into preparations, physical and mental. Hopefully next time I'll have the opportunity to in more training.

I have updated my Wish List to include some books, particularly Susanna Clarke's novel, Jonathan Strange and Mr. Norrell. I am sorely tempted to just go out to the nearest Barnes and Noble to buy it, but I am concerned I will not have much time to read it--it's quite thick!

I decided to rent the Xbox game Fable and am quite enjoying it. It reminds me of my favorite Xbox game, Star Wars: Knights of the Old Republic.

Also, I have recently begun to do some creative writing as a hobby. Actually I shouldn't say "begun", as creative writing used to be a hobby of mine many years ago. After many years' hiatus, I have taken it up again, this time to work on a possible epic novel, of the high-fantasy genre. As all modern high-fantasy tales, it borrows heavily from Tolkien, but I am aiming to broaden its mythical and cultural source material to consider more parts of the world. Otherwise, I do not claim any high literary ambition than to spin an entertaining yarn with which I might one day be able to amuse my grandchildren.

By the way, I finished the LOTR: The Return of the King Xbox game, except that I did not fight my way through the bonus levels, which are nothing more than fighting 20 waves of enemies in a row, with each wave increasing in difficulty . I simply do not have the kind of time and endurance it apparently takes to battle through that kind of ordeal. However, I did play through both bonus levels on "cheat" mode, just to see what happens. Even with complete invulnerability, I still had trouble finishing those levels.

9-10-2004 another UPDATE after a long hiatus.

Things are getting even busier, but at least I now have access to the internet at home.
Recently attended the New York Renaissance Faire dressed in my swashbuckler outfit, with rapier and dagger, boots and cape, with some friends. More on this later.
I now own a copy of Lord of the Rings: Return of the King videogame on Xbox, and am getting close to the end.
I owe you a report on the LOTR exhibit at the Boston museum. More later.


8-1-2004 UPDATE after a long, unintended hiatus.

I recently have been going through some busy periods, including a relocation to another town. Things are continuing to be busy for the next several months.

This August 7, 2004 I will be at the Boston Museum of Science for the Lord of the Rings Movie Trilogy Exhibit, along with several others. I'll give a full report later.

Also please see the calendar for updated events.

4-20-2004 UPDATE

I recently started wearing eyeglasses. Hugo boss frames with ARC transition lenses.

I've added some photos to the site. One, a self-portrait, is at the Personal index page, in which I'm sporting my new glasses. There are some others at the Combat index page, showing some tournament footage of me wielding the Jian, the Chinese straight double-edged sword.

I recently saw Kill Bill Volume 2 and was highly entertained. Kudos to the lovelier-and-deadlier-than-ever Uma Thurman on a surefire portrayal of a mommy with a bad grudge and mad skillz (with a "z"). Also I salute David Carradine, whose autographed photograph as the titular Bill is featured elsewhere in this webpage, on his charming and sympathetic performance as the primary focus of mommy's grudge. I can honestly say to Mr. Carradine, if I ever have the good fortune to meet him again, that I'm a fan and an admirer of his work, particularly in said film. And a huge applause to Quentin Tarantino! This, along with Volume 1, was a masterwork in storytelling and directing. High marks to Darryl Hannah and Michael Madsen for their performances as Elle Driver and Budd. Same goes for Gordon Liu, the Master Killer himself, who was perfectly cast as the master of the five point exploding heart technique! Thanks for the great work.




4-4-2004 MORE REGARDING last weekend's 2004 Garden State Games Invitational tournament.


I've been requested more detail regarding the last tournament, so here goes:

i competed in 2 divisions, advanced weapons and advanced forms (no weapons). first came the weapons division, and i knew i was going to have a tough time because my classmate Barry was competing with the Shaolin Broadsword (Chinese sabre with wide blade, similar to scimitar), and his form has a tornado kick (a cool looking aerial kick). I however had prepared the Shaolin double-edged (straight) sword, which does not have any aerial kicd relies upon precise, flowing movements. Also, last year's weapons division was very tough, as there were several competitors, and as I recall, I only landed 3rd place in that division and Barry took second (with his broadsword) while a karate guy with twin nunchucks took 1st.

well, this year was a let-down in that no one from other schools showed up to compete against us. So, it was just me versus Barry.

as it turned out, I managed to win 1st and Barry took 2nd. I'm quite pleased with my execution of the form. Barry's was also very good.

Then it was time for empty hand forms. Again I knew there would be strong competition, at least from Barry. Barry had prepared "Hua Quan Three", which contains a whole slew of spectacular aerial kicks. I am still learning that form, so I prepared "Hua Quan One" which is a longer form and fewer aerial kicks (two strikes against me).

Also, this time competitors from other schools had entered, including both karate and kung fu stylists. Maybe there were five, six competitors total.

Barry did a great form, as far as i could tell. However, his scores were oddly low from the three judges (I guess they weren't fans of aerial kicks), all in the mid to high 7's. A kung fu guy from another school came up and did a Southern Shaolin form (not a lot of foot movements, but low stances, quick hand techniques as well as slow, breath control development moves). He took some high scores, in the low 8's (8.0 and 8.1 and something else) When it was my turn I started off fine, but toward the middle I lost concentration for a moment--there was a brief pause-and I forced myself to improvise in order to bluff my way until I could find my place. I threw in an extra jump kick and some other moves until finally I found my place.

When i was done, I received 8.3, 8.3, and 7.8.

I sat down, and Barry whispered that he thought I was in 1st place, but I wasn't sure. And then the results....

I ended up with 2nd place, and the other kung fu guy took 1st. [This guy turned out to be "Marty" whom I congratulated in my previous entry.] ah well.

then it was time to defend my Grand Championship from last year. I had another bite at the apple due to my last year's win.

or so I thought.

the announcers were calling the names for the Grand Championship run-off, but I did not hear my name mentioned. so i ran around asking officials, and very few of them knew anything.

There were three Grand Championship competitors called, and one didn't show up. I was not called, and tried to get the attention of one of head organizers. I was waiting to talk to her while the Grand Champion division was already starting!

I watched the second guy finish his form. Then, the organizer spoke to me and I asked her about whether I was supposed to compete. she went to check with the main organizer, and then ran back and told me to go, *now*. so I basically hustled into the ring and did my thing. Another shot at "Hua Quan One", this time without the hesitation and false moves in the middle.

The results? The scores were extremely close, by tenths of a point. the other kung fu guy [Marty] won. doh!

so anyway, i was happy to take home a 1st place medal and a 2nd place medal.




3-28-2004 RESULTS of today's 2004 Garden State Games Invitational Karate/Kung Fu Championships.
Al Bender's Kung Fu had a strong showing of various placings in all categories. Personally, I took 1st in Advanced Weapons and 2nd in Advanced Empty-Hand Forms. I also competed to defend my Grand Championship title from the 2003 tournament, but was edged out. The new Grand Champion of 2004 for adults under black belt is "Marty" from Sifu Paul Vizzio's New Jersey Foo Jow Pai (Tiger Claw) Kung Fu School. Marty was in top form, a gracious winner and sportsman, and a friendly guy. Congratulations Marty! Also, Sifu Vizzio's school did very well in other divisions today. I salute our kung fu brothers and sisters of Foo Jow Pai.




3-23-2004 REMINDER this Sunday, March 28, 2004, is the 2004 Garden State Games Invitational Karate/Kung Fu Tournament, where I will be defending my Grand Championship title from the 2003 tournament. I will be competing in Adult Advanced Weapons and Adult Advanced Empty Hand Forms. It will be held at the Rahway Recreational Center in Rahway, New Jersey.





3-1-2004 CONGRATULATIONS to Peter Jackson and the makers of THE LORD OF THE RINGS: THE RETURN OF THE KING (2003) on winning Eleven Oscars for Eleven Nominations!
Categories for which it was nominated and won: Best Picture, Director, Adapted Screenplay, Film Editing, Sound, Art Direction, Costume Design, Visual Effects, Score, Best Song ("Into the West"), and Makeup. J.R.R. Tolkien would be proud.





1-26-2004 HAPPY NEW YEAR, INCLUDING CHINESE NEW YEAR!

THE LORD OF THE RINGS: THE RETURN OF THE KING (2003) won four Golden Globes last night! That is four wins out of four total nominations in the following categories: Howard Shore for Best Score; Howard Shore, Fran Walsh & Annie Lennox for Best Song "Into the West"; Peter Jackson for Best Director; and the whole film for Best Dramatic Film. I had been rooting for each and every installment in the trilogy and I finally get some satisfaction.

On each occasion just before the winner of each of the four LOTR:ROTK-nominated category was announced, I got nervous. I thought, what if it lost? What if the Hollywood Foreign Press simply "didn't get it"? What if they penalized it for belonging to a mainly Fantasy genre? I did not want to feel the same disappointment that I felt the past two years for LOTR:FOTR and LOTR:TTT. I did not feign indifference, i.e., "Who cares, it's just some award show", etc. I wanted LOTR:ROTK to be recognized for its merit, and to make up for the past two years where the previous film installments were passed over for such acknowledgment.

Then each time LOTR:ROTK was announced as the winner, I shouted with triumph and delight! I wonder how many other fellow fans out there shouted at the exact same four times I did?

CONGRATULATIONS to everyone involved in making LOTR! Tolkien, I think, would be proud, as I am proud to be a fan.
Now let's bring on the Oscars! To quote Governor Howard Dean of Vermont: "YEEEEEEAAAAAAHHH!!!!!"


One other thing. Susan Sarandon's introduction of Mystic River with the comment "...the only special effect is the effect it has on its audience".... , clearly a weakly-disguised jab at LOTR:ROTK's abundant use of special effects in LOTR:ROTK, was shameful, and gets a PFFFFT!~~~~

OH yeah, I finished playing HALO: COMBAT EVOLVED on X-Box. I realize this came out years ago and I'm behind the times, but oh well, what can I say. It is the most intense video game I have ever completed, or played. It's not my favorite game, which would remain STAR WARS: KNIGHTS OF THE OLD REPUBLIC, but it is certainly intense! Especially the second half. I've played some intense first-person-shooter games before, like Doom, Quake, Descent and their progeny. Halo takes "intensity" to a whole new level. Congratulations Bungie Software on a remarkable achievement!





12-22-03


Saw THE LORD OF THE RINGS: THE RETURN OF THE KING (2003) twice so far. Once at 10:50 p.m. on opening night, Wednesday December 17, 2003, and the second time this past Friday, December 19, 2003 at 10:45 p.m.

Rather than post a review, of which there are many on the movie's entry page in IMDB.COM, let me just say that I intend to see it again soon. That I will eventually own the Extended DVD oudf this movie is without question, as I already own the first two.


Also, in the event I were to die anytime soon (knock on wood), I would like the theme song that played during the end credits, "Into the West" sung by Annie Lennox, to be my funeral theme song.


Lately I have found myself wondering what I would do if suddenly I happened to meet Peter Jackson, while he happens to be walking somewhere with, say, Elijah Wood (Frodo) and Andy Serkis (Gollum/Smeagol). Would I say something like: "You bow to NO ONE!" and kowtow right then and there? Or would I break out into a blubbering, gushing mess, thanking Peter for his years of work, creativity, and genius? And then what? Ask for autographs? Ask him questions (i.e., "If you couldn't get Brad Dourif as Grima, would you have gone for Jeffrey Combs?") Ask him if I could give him a big hug (and find myself arrested, perhaps)? The fact is, I have been following the movies closely from the beginning (and the books for far longer than that), and now I feel almost like I personally know Peter Jackson, along with his cast and crew. It is something I have in common with several circles of friends and family. Emotionally, I have claimed them as my own (my precious!) I want to do more than thank Peter Jackson and his Fellowship, I want to express to them how proud I am of their work, their achievement, which I think has become embedded as a major flagstone on the pathway of cinema history. Proud, as though they were my own.


Reports in the media have it that Peter Jackson has expressed interest in working on adapting J.R.R. Tolkien's The Hobbit, the prequel to The Lord of the Rings. If New Line Cinema obtains the film rights somehow and Peter Jackson's interest comes to fruition, and assuming Sir Ian McKellan, Andy Serkis, and Hugo Weaving return to reprise their roles of Gandalf, Gollum, and Elrond respectively, then I would recommend to anyone listening that Orlando Bloom should do a cameo as a slightly younger Legolas, son of King Thranduil of the Wood Elves in the Woodland Realm of Mirkwood. He should first appear as an observer in Thranduil's court, perhaps showing some mercy to the captive Dwarves. Later he should act as a Lieutennant in the Wood Elf army and star in at least one snazzy "Legolas" trademark action sequence during the Battle of Five Armies. If Orlando Bloom is available, I would think New Line would jump on this idea. Consider the box office draw, not to mention the continuity from the previous films. Also, the hill trolls that capture the dwarves should look like the statues that appear in the Trollshaws in The Fellowship of the Ring (2001). Also, an interesting "Peter Jackson-ish" egalitarian spin would be have some of the dwarves played by women, as female dwarves. Why not? They could have been female dwarves in the book, mistaken by Bilbo to be male due to their beards.


"Fell deeds awake! Now for wrath! Now for ruin! And the Red Dawn! FORTH EORLINGAS!" Theoden, The Lord of the Rings: The Two Towers (2002).


"Certain chance of death... Small chance of success... What are we waiting for?" Gimli, The Lord of the Rings: The Return of the King (2003).




12-4-03
Updates: Lists--Wishlists updated.
TOURNAMENT RESULTS.
My kung fu school competed quite successfully at the Faustini Karate Invitational on November 23, 2003 in Oradell, New Jersey. I managed to land first place in my division, Advanced Adult Men's Open-Hand Forms. Of the 10 or 11 competitors from my school, most of them placed first, second or third. If you attended the event, thank you for your support.

I recently acquired and viewed the Lord of " the Rings: The Two Towers, Special Extended Edition DVD.enin It was certly a worthwhile purchase.
"That doesn't make much sense to me. But then again, you are quite small. Perhaps you're right." -- Treebeard, The Lord of the Rings: The Two Towers (2002).


11-19-03
OK Here I am again for a quick update to this cobweb-gathering log. I've been occupied lately playing STAR WARS: KNIGHTS OF THE OLD REPUBLIC on my new X-Box. This is a wonderful game, even for those who are not such big Star Wars fans. An RPG (roleplaying game) that contains vivid action, detailed worlds to explore, and loads of player freedom, the game contains a storyline at its core that is so well thought out that if it were a movie, it could be just as enjoyable as the original Star Wars film trilogy. As storylines go, it clearly surpasses the more recent Star Wars prequel films in writing quality, character portrayal, and plotline. It also happens to be quite playable, with loads of replay value, and some funny non-player characters. I am currently on my fourth replay.

My Calendar of Events has been updated. The Garden State Karate Invitational tournament that was scheduled for November 8, 2003 at the RexPlex in Elizabeth, New Jersey was cancelled due to a family crisis for the organizer, whose son endured an automobile accident two days before it was scheuled. However, there is another karate tournament that will occur this Sunday, November 23, 2003 at Riverdell High School in Oradell, New Jersey, hosted by Rick Faustini Karate. I will be competing in the Adult Men's Division, Empty Hand Forms (Kata). Although it begins at around 10:00 a.m., the morning is for children and teens; adults do not compete until after 12:00 noon.

Also, I just noticed that this site has been listed on at least three new Search Engine of which I have been unaware until now. Thank you to http://dmoz.org/sports/fencing/classical, to http://www.finestimage.com/, and to http://www.dominion-web.com/directory/Top/Sports/Fencing/Classical for the link mentions.




9-27-03
TOURNAMENT RESULTS ARE IN! I am happy to announce that students of my kung fu school, Al Bender's Kung Fu Academy in Bloomfield, NJ, that competed today at the 2003 Annual Wong Fei Hung All-Kung-Fu Championship hosted by Yee's Hung Ga Academy, performed with great success. Mostly all my classmates earned a medal, including three students that won first place in their division. As the sole representative in the Advanced divisions, I won medals for my first time at a Wong Fei Hung tournand ment. Although I did not expect to place due level of c ompetition that usually comes to this particular tournament, I am pleased to have landed the following:

Advanced Men's Short Weapon 3rd Place, with the Dao (Broadsword)
Advanced Men's Long Weapon 3rd Place, with the Gun (Longstaff)
Click here to see the two medals.


I am quite proud of both medals because I had to compete against scary competition. For Short Weapon, I beat out the guy who took second place (thus beating me) in my Northern Barehand Division. The same guy beat me for second place in Long Weapons. In fact I tied him for second place and we had to re-do our forms. He edged me out in the second round, and well-deservedly I thought. His spear form included several difficult moves, including a jump into a split while thrusting the spear, and also a butterfly kick while swinging the spear. Thus, I am quite content in landing third in Short Weapons and third in Long Weapons. Also, in landing third in Long Weapons, I also managed to beat another guy, who took third in Barehand and first in Short Weapons. Both these guys are students from the Boston Wah-Lum Kung Fu School under Sifu Barbarossa. Or is it Barbossa? I spoke with both guys, particularly with "Bill", and I can say that they are gentlemen as well as strong competitors and exemplary kung fu practitioners. I hope they made it back to Boston safely this evening.

In Advanced Men's Northern Barehand, for which I used Hua Quan One as my form, I did not place. However, it was my goal to be able to finish the complete Hua Quan One form within 2 minutes timelimit, which I've only just learned to do consistently. (It is quite a long form.) I succeeded in meeting that goal. Too bad I did not execute the form very well. In rushing it, I made a few mistakes (at least two) that I probably would not have made under normal time, even though while training I am able to perform within the time limit without the same mistakes.


It was a long, agonizing day, mostly spent waiting around for my division, never knowing whether I warming up or resting. One of my strategies was to conserve my energy by not practicing any kung fu until my division was soon to begin. However, I learned that the tournament organizers are not always correct when they announce your division. In my case, they called my weapons division *six hours* before it actually began! and in the wrong location. I also had to wait three hours from the time I was *told* I was to get ready for my division to go, until my *other* division was called, the barehand division. By the time it was time for my barehand division to line up before the judges, my warm-up had cooled again, my energy level which had gone up during my warm-up rapidly had sunk down, I had not had an adequate meal while I could have eaten instead of warming up too early had I known better, and I was fatigued from my previous warm-up despite my original "plan" to conserve energy.

Conclusion: do not assume that your division is soon to begin, even if the younger divisions in your category are competing already. Do not assume that all the divisions will proceed consecutively, non-stop. Judges are not always available. Sometimes divisions are not called immediately after the preceding one has completed. The problem is, there is no guaranteed way of being able to second-guess the tournament organizers. Decisions are made spontaneously based on available judges, of whom the tournament organizers are busy trying to keep track and commonly fail miserably. It is not worth the trouble to do the tournament organizer's job by trying to track the available judges yourself. Instead, accept the waiting, the false announcements, and the mentally-draining fatigue as part of the tournament experience, and take comfort in the fact that those who will be competing against you are experiencing the same thing.





9-26-03
ACTUAL AMUSING QUOTE: At kung fu class this past Monday, September 22, 2003, just after Sifu Al announced to the class that there would be some changes to the regular Saturday schedule of kung fu classes, one of my advanced-section classmates who also takes private lessons from Sifu Al on Saturdays, asked:

"Sifu, on Saturday, what are you planning on doing with your privates?"

This was followed by voluminous guffawing and chuckling througsthout the class, myself included. Sifu Al joined in, jokingly responding, "Well, I'm not sure I should be answering that . . . ." or something to that effect.


SITE UPDATE: I received a few guestbook entries recently. One guest, originating from the Philippines, requested that I teach some kung fu techniques, with photographs. In this site I have published several essays that discuss my thoughts, opinions, and analyses of martial arts general principles and self-defense concerns, but I have avoided going so far as demonstrating or describing any specific technique. I have considered adding some detailed self-defense applications to this site, but have not done so for several reasons:
(1) I should not be teaching kung fu, or any other method of self-defense, because as a student of Sifu Al Bender I should let him do the teaching, out of respect to my Sifu. I am only authorized to assist in instructing at the kung fu school.
(2) Even if I were not studying with the Sifu, my martial arts technique instructions could be easily misinterpreted and used incorrectly, which could lead to dangerous and deadly consequences. Martial arts should be learned from a teacher in person, not over the Internet, so as to be sure to learn it properly.
(3) I haven't really thought of any technique that I can claim as original and self-invented, since every martial arts technique that I know was taught to me from either the Sifu or a previous teacher. Therefore if I publish instructions for performing any such technique then that would be, essentially, stealing the techniques of another without permission. Even if I did know a move that was original and self-invented, it would not be battle-tested and would lack the credibility behind the legitimate techniques I have learned from other teachers.
(4) I do not have a handy way of taking martial-arts demonstration photographs, such as a mounted webcam or a tripod and camera with timer, nor do I have a partner who is readily available for demonstrations of martial arts applications while I am normally working on this site.
However, if I can figure out a way to do it and if I can find the time, I might include some non-kung-fu moves, such as from fencing or tang soo do. I did see a good disarm move in a recent re-run of Highlander: The Series that I might want to analyze and interpret.


The kung-fu tournament is tomorrow. Directions can be obtained from Farleigh Dickinson University website for the Lodi, New Jersey Campus. The tournament will be held at the Rothman Athletic Center, so check out the campus map for navigating your way specifically to that building, as well as generally to the campus.


Am I ready? Yes I am. I am psyched!





9-18-03
CALENDAR UPDATE: I will compete in this year's Wong Fei Hung Kung Fu Invitational Tournament on September 27, 2003 at the Rothman Center, Farleigh Dickinson University in Hackensack, New Jersey. Divisions: Adult men's Northern empty hand, short weapon, and long weapon. Wish me luck! If I place or win, it will be my first time placing or winning at a Wong Fei Hung Kung Fu Invitational Tournament.


OTHER UPDATES AND CURRENT EVENTS. Brace yourself for Hurricane Isabel, and Please! No more U.S. East Coast blackouts!
PERSONAL UPDATE. I ac ed an XBox Game System and eft thumb (a/k/a "joystick" thumb") is nearly blistered.

Game Reviews: Soul Calibur II.

This combat game earns props for depicting numerous weapons techniques and combinations that, while too flashy to mirror realistic fighting, are nonetheless mostly authentic moves from the particular art forms represented. Specifically this is true for the characters that use kung fu and/or wushu styles, such as Xianghua (jian, the double-edged straight sword), Yudong (dao, the curved broad-bladed sabre a/k/a "broadsword"), Kilik (longstaff, a/k/a double-ended staff), Seung Mina (pudao, the pole-arm with a broad sabre blade), and Ivy (double-edged broadsword that extends into a multi-sectional whip-chain) all of whom seem to use valid kung fu and wushu moves. Their solo weapons demonstrations appear to be based on standard competition wushu forms for the particular weapon represented.

Also, the characters who use the Japanese katana, namely Mitsurugi and Yashimoto, appear to use authentic Japanese sword techniques in combat and in solo demonstrations (kata).

The same does not hold true for the only available rapier fencer, Raphael. Although he is my favorite character for playing, his techniques are based more on old swashbuckling movies, mixed with contemporary wushu and taekwondo for the kicking techniques, than on authentic rapier technique from any known historical rapier master. However, the game attempts to make up for the difference by giving authentic Italian and French names to many of the techniques and combinations in Raphael's Command List. "Mandritti", "Tondo reversi", "Stoccatta", and "Moulinet" are all legitimate names of rapier techniques. Then there are some that are invented for the game, however, such as "Dark Moon" and "Wyvern's Tail". The solo weapon's demonstration performed by Raphael is quite odd, as it is nothing more than a Flamenco dance, with foot-tapping and hand flourishes included, during which he picks up and waves about his rapier, with some wushu jump kicks thrown in for good measure, such as a tornado landing on the kicking foot.

Other positive qualities: it has long-lasting replay value, due to the difficulty of learning and applying the various techniques and combinations, the numerous character to choose from and modes in which to play, such as Weapons Master Mode (mission-based with linear narrative) in addition to the standard Arcade Mode and variants, such as the Timing Attack, Survival, and Practice Modes. Furthermore, being more than merely a game, its depictions of various weapons fighting styles is a surprisingly educational for a martial-artist or fencer.





8-18-03
ADDED: a new original poem, which I wrote this evening in response to receiving an email of a Barnes and Noble coupon. I received the coupon from my friend Carol, who kindly forwarded it to me as part of her list of mass-email recipients.





8-17-03
ADDED: Silly poems and lyrics, original and parodic. New material includes a couple of song lyrics that I've written a few years back, including: a Blair Witch parody to the tune of "Genius of Love" sung by Tom Tom Club, and a parody of Queen's Bohemian Rhapsody relating to vacationing in the Bahamas.





8-14-03
BIG BLACKOUT in a large chunk of the United States, including my area, and some areas in Canada. Its cause remains Big Mystery. The government says it's "not terrorism" but it does not know what caused it.


If anyone did not get responses from me to any emails sent recently, it is probably because I could not access my account due to lack of electric power. The power is now back on and all appears to be well again, at least for me, and hopefully also for you. Well, if you're reading this now then I'd say things are probably back to normal for you.
th vulnerability and dependence upon electricity manifests. We are electricity and technology addicts. If you were not an electricity and technology addict you would not be reading this right now, you would be writing essays in a little cabin near Walden Pond in Concord, Massachusetts. Or something like that.


We are a civilization riddled with addictions, and I'm not talking about the addictions we condemn among individuals regularly such as alcohol, drugs, tabacco, gambling. I'm talking about the addictions common to our civilization as we know it that are not condemned, but nurtured and encouraged on a mass level. Electricity. Technology. Television. Sugar/carbohydrates. Sex. Things that if we were suddenly deprived of them for extended periods of time, we as a civilization as we know it would collapse, and instead misery and chaos would prevail.


I do not, dare not, be so arrogant as to suggest an alternative, a cure, a solution. I have not reached that level of wisdom. If I ever do, I would like my Nobel Prize super-sized please.





7-20-03
My Birthday's over; a new year in the life of yours truly begins. My thanks and love to those who celebrated it with me! In light of gifts received, I have updated my Wish List to reflect the Wishes that have been fulfilled. In addition to those items marked, I was also blessed with sunny, mild, most agreeable weather this weekend, indeed the best weekend weather this summer has seen thus far. Let it not be the last, Thanks be to the Almighty, Amen.





7-10-03
Happy American Independence, my countryfolk. This past Independence Weekend I did the patriotic thing--I left the country. I chose to spend the weekend in the lovely, cosmopolitan city of Montreal in Quebec Province, Canada.


BIG TIP for those who might wish to travel into and out of Montreal via the New York border, but wish to avoid the long traffic delays at the border: Instead of crossing the border at Route 87 to Route 15 in bound, and vice-versa outbound, instead take the following detours:

INBOUND: From 87 North, find the exit for Route 11 East, which will be near a McDonald's. Take Route 11 East to Route 211, which will be less than ten minutes' drive. Make a left (North) at Rt 211, which is a local road. Cross the Route 211 border, where there are hardly as many cars waiting. You may return to Route 15 North (the main highway toward Champlain Bridge into Montreal) by making a left at Route 202, which cuts West to Route 15.


OUTBOUND: From Route 15 South, find the exit for Route 202. Take Route 202 East until you reach Route 221. Make a right (South) and cross the border. Once across, make the second right turn onto Route 11 West. The entrance to Route 87 South will be at the McDonald's. the detour is less than ten minutes' drive. If you are driving during peak hours, you will avoid hours of delay.





6-29-03
This serves to announce a quick update to my WISH LIST. Item #1 of the Wish List has been modified as of today to reflect that the "SD Card" is available from brand names other than Palm, and to recommend avoiding the Palm brand SD Cards, as they are grossly overpriced. Look for brands such as PNY and Sandisk instead. Note that Sandisk makes a 256mb capacity SD Card. Also note that only 128mb and 256mb storage capacity SDCards are worth purchasing.


Also, I finished reading J.K. Rowling's _Harry Potter and the Order of the Phoenix_ this afternoon. It was quite an enjoyable, engrossing weekend-long read that piqued my anticipation of the remaining two books in the popular series.


Speaking of books of the young reader's fantasy genre, I recommend Philip Pullman's His Dark Materials trilogy saga for those interested in this type of book. Although I quite enjoy the Harry Potter series, I appreciated Pullman's books at a deeper level. The trilogy, comprising of the books The Golden Compass, The Subtle Knife, and The Amber Spyglass, reads as one single story, as does J.R.R. Tolkien's The Lord of the Rings, also a single story published in three separate volumes. Like Tolkien's Rings, Pullman's books encompass a grand epic scope not depicted in any of Rowling's books thus far.





6-26-03
BACK AGAIN for a quick hello. This entry serves to announce the inclusion of a wish list finally, now that my birthday soon approaches. The wish list is there to assist those who were planning on getting me something; it is not intended as a beg-a-thon. OK yes it is. ;-P


I saw The Hulk (2003) in the theatres recently. Notwithstanding mixed reviews out there, I enjoyed it overall. Me Like Watch Hulk Smash! And Jump! Actually he didn't talk like that.


Also recently thought I had lost my Palm Pilot, Palm Vx, so I dropped by a Best Buy and bought the latest model, a Palm Zire 71. It is a powerful device loaded with handy features. I highly recommend it for its built-in digital camera, its attractive color graphics, its ability to play mp3, video, and audio-books, and its easy expandability by way of a peripheral card slot, plus all the features that made the Palm Vx sleek and practical. Then I found my old Palm Vx and felt rather silly, though relieved.


Other news: in Kung Fu all the Assistant Instructors, including myself, were officially dubbed "Sisuk" (pronounced See-sook), the honorary title for addressing an Assistant Instructor. This is probably not the literal translation but it is a custom for our martial arts system. Hence, I am now addressed as "Sisuk Mike".


Yet further kung fu related news: Monday, June 23, 2003, marked my fifth anniversary as a student at Al Bender's Kung Fu Academy. Accordingly, Sifu Al awarded me a Five Year Pin to adorn my sash. Here is a photo of the pin: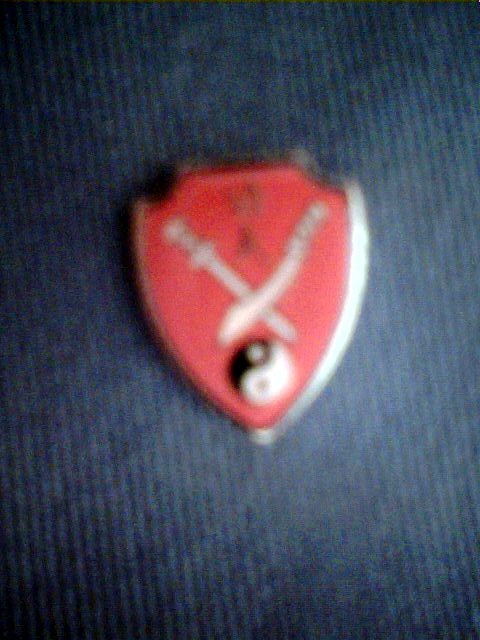 5-20-03
BRIEF REPORT on the Bernards Kung Fu Demonstration that occurred this past May 17, 2003.
It was generally okay. The turnout was respectable but we were hoping for better. As for our performances, they went quite well. There was an awkward moment during my two-man Shaolin form with Ariel when our timing was off and we had to scramble to recover, which we succeeded in doing. Otherwise it ran smoothly. As an added bonus, Sifu Al demonstrated some Taiji applications on me, then on Ariel, and then finally on Sifu George. It allowed me an opportunity to demonstrate my falling and rolling ability, i.e., getting thrown around the stage by Sifu Al onto my sorry ass. ;-)


Saw the Buffy the Vampire Slayer series finale episode "Chosen" this evening. I am a die-hard Buffy fan, and have seen every episode. I am quite saddened to say farewell to such a fine, entertaining, thought-provoking, and emotionally moving series. Thank you Joss Whedon, Sarah Michelle Gellar and company&cast for your work on the show, which will be missed.

Saw THE MATRIX RELOADED this past Sunday, May 18, 2003.
I will not post a "review" but will instead pose ten plot-questions, which contain SPOILERS!!! As follows:


S SPOILERS BELOW!

P YOU HAVE BEEN WARNED!

O YOU ARE GIVEN A CHOICE . . .

I CHOOSE DOOR #1, AND YOU WILL CEASE SCROLLING DOWN AND AVOID THE SPOILERS BELOW.

L CHOOSE DOOR #2, AND RISK SPOILING THE PLOT TWISTS IN THE MOVIE.

E

R IT APPEARS YOU ARE CHOOSING DOOR #2. ARE YOU SURE?

S

! HERE THEY COME!

(1) According to the Architect, is the Oracle the so-called Mother of the Matrix or not? When Neo mentions the Oracle during his scene with the Architect, the Architect scoffs "Please." Is the Architect scoffing to suggest that she is not the Mother he is referring to? Or is he merely scoffing at the notion that she is called an "Oracle"? I wonder whether this ambiguity of language was intended.

(2) The Architect states to Neo to the following effect: that Neo carries computer code, which, if Neo so chose, could be used to merge into the existing Matrix and allow it to begin a new version of itself. Neo would then become entitled to pick an assortment of humans to begin a new version of Zion, to follow the destruction of the existing Zion. Why does the Matrix need Neo's code? Why not reload itself every so often, as needed to refresh the system?

(3) According to the Architect's explanation, if Neo were to choose the door on the left and merge his "Anomaly" code into the existing Matrix, what would happen to Neo? Would Neo also merge into the Matrix, losing his identity and thereby ceasing to exist as an individual, i.e., dying?

(3) Why does former-Agent Smith want to kill Neo, even after having been freed from his role as a Matrix Agent and given added powers? If his motive is revenge, revenge for what? If it is for killing Agent Smith, it appears Agent Smith was never really "killed"; instead Neo made Agent Smith more powerful, and more importantly, freed him from his previous responsibilities and limitations.

(4) Who/what are the Twins and why do they serve the Merovingian? (sp?)

(5) Who/what is the Merovingian? Was he a former instance of "The One"/"the Anomaly"? Or something/someone else? Is he a program, or a human with powers?

(6) Who/what is Persephone?

(7) On his way into an elevator in Zion, Neo is given a rough-looking metal spoon as a gift by an orphan. Is this gift intended to show that the spoon had been bent, like the way the child in the first movie bent the spoon in the Oracle's apartment, thereby suggesting that Zion exists within a Matrix where there-is-no-spoon? Or is it a dented, amateurish-looking spoon that serves as a reminder that "there is no spoon" in the Matrix, although spoons are quite real in Zion. Or thirdly, does the gift show that even though Zion exists in the "real world" outside the Matrix, the spoon can still be bent--i.e., there is no spoon, even in the "real world"? Again, I wonder whether this ambiguity of meaning was intended.

(8) What is the Merovingian's agenda with respect to the Matrix?

(9) How is the Zion Council selected?

(10) Do the Zion ships (i.e., Nebuchadnezzar and others) serve any military, defensive function besides carrying EMP devices? As Zion runs on and depends upon machinery with electronics, EMP would not serve as a viable weapon near Zion. We have not seen any ships carry military, defensive weapons other than EMP. The question becomes, why would Commander Locke think it important for the defense of Zion to maximize the number of its available ships?

I absolutely welcome and request any suggested answers, which should be submitted by selecting "FEEDBACK" below.




5-12-03
UPDATED DETAILS on my kung fu school's upcoming Taiji, Shaolin, and Hsing Yi Kung Fu Demonstration in Bernards/Basking Ridge this Saturday, May 15, 2003. We are scheduled to begin at 2:30 p.m. at the Henry Street stage. Here are the directions:
Take 78 to exit 36 (Basking Ridge)
Turn right at light onto King George Road (see Exxon station on left)
Go through four traffic lights (name of road changes to Stonehouse Road)
Pass Gulf station on the right and bear right just before 5th traffic light, onto Lyons Road
(road will curve around to the left
Go through next traffic light (staying to the left) and see train station on left
Road name changes to South Finley Avenue
**Continue on South Finley and go through next traffic light (see Ridge High School on right)
Continue on South Finley to the center of town
As previously mentioned, we will be performing on Henry Street stage at 2:30 p.m.
**Due to lack of parking spaces in the center of town, you may be required to park at Ridge High School and take shuttle bus to the center of town. If so, turn right at light into Ridge High School parking lot.

At the Henry Street stage area, look out for the guys in all-black kung-fu uniforms, or in black kung-fu pants, wide gray sashes with red fringes, and red T-shirts. Do not confuse us with the karate school, which is performing a demonstration at a different location at the same time. Karate uniforms include jackets that are either V-necked or resemble the jacket Luke Skywalker wore in the original Star Wars movie. Their pants are flared at the hem, unlike kung-fu pants which are usually either draw-string, elastic, or tapered at the hem. Also they wear narrow knitted belts that tie in the middle of the waist. We wear wide gray or black sashes with red or white fringes, and tie them at the left hip.

The planned schedule of events for the demonstration is as follows, thus far:

Sifu Al Bender will perform Simplified Yang-Family Taiji Quan, a/k/a 24-Step
Next, Sifu Al and Sifu Craig Spielmann will perform Combat Taiji Quan of the Kuang Ping Style
Then Ariel Collazo and I will perform the 2-Man Combat Version of Chuan Su Er Shur Fa ("20 Methods of Self Defense") (also spelled Quan Shu Er Shi Fa using the pin yin Romanization), an intermediate-level Shaolin form. This has been confirmed as part of the program.
Following will be Sifu George Vega with his spectacular Hua Chuan Three, an advanced Shaolin form.
Thereafter, Sifu Al and Sifu Alvin "Rick" Little will perform two-man Hsing Yi Quan.
Finally, Sifu Al will conclude the demonstration with his signature weapons form, using the Shaolin Dan Dao (Single "Broadsword" a/k/a Sabre).

I am truly excited to be part of this upcoming event, which promises to be memorable. If you come see it due to having heard about it through this website, please do come and introduce yourself to me, as I would be pleased to hear you came.




5-8-03
NEW STUFF: PHOTOS with Cynthia Rothrock and Brad Dourif are now posted!!! from the 4-28-2003 Chiller Theatre Convention.

Myself with Ms. Rothrock, in fighting stances.
Ms. Rothrock's publicity shot, possibly from the movie Lady Dragon (1992), with autographed message.
Myself with Mr. Dourif.
Mr. Dourif(right) as "Grima Wormtongue", with Christopher Lee as "Saruman the White", in The Lord of the Rings: The Two Towers (2002), with Mr. Dourif's autograph.
Mr. David Carradine as "Bill", publicity shot from the movie Kill Bill (2003), with autographed message.

Also a photo of my 2003 Grand Championship trophy from the March 23, 2003 Garden State Karate Invitational, with myself in uniform (sans shoes).

CALENDAR UPDATE: On Saturday, May 17, 2003, Sifu Al Bender, Chief Instructor and Proprietor of Al Bender's Kung Fu Academy of New Jersey, my kung fu teacher, is scheduled to give a demonstration of taijiquan and possibly some hsing-i chu'an (xingyiquan) and/or shaolin kung fu in Bernards, New Jersey as part of its Charter Day 2003 Festival. He has tentatively asked my kung-fu brother and friend Ariel and myself to perform a two-man Shaolin combat form as part of the demonstration, if time allows, to be confirmed. Time and exact location TBA. Come to see the demonstration and to enjoy the festivities, the food, the music, the games, the local denizens of Bernards. Also, my teacher's daughter, an up-and-coming vocal prodigy and recording artist who has performed at the Madison Square Garden, will be singing. Also, his son will be playing in a rock band in the Battle of the Bands.




4-28-03
NEW STUFF!!! I met some celebrities this past weekend who actually meant something to me. I also saw many other "celebrities" who did not particularly resonate with me and therefore will not be mentioned here.

On Saturday the 26th I attended the 2004 Chiller Theater Convention at the Sheraton Hotel in East Rutherford, New Jersey. This is a Convention that occurs twice a year to celebrate horror and science fiction cinema. Guest celebrities that are somehow connected to the horror or science fiction genres make appearances to sell autographs. Actually, the Convention has had guest celebrities that have no connection whatsoever with horror/sci-fi, but who are known for roles in classic television, comics, martial arts, or even comedy.
This Saturday, I had the honor and the privilege of meeting three great celebrities all in the same room! They were as follows:

(1) CYNTHIA ROTHROCK!
(2) BRAD DOURIF!
(3) DAVID CARRADINE!

I obtained autographed photos, and also my friend Darren was kind enough to take some photos of me, using my APS camera posing with Cynthia Rothrock, and with Brad Dourif, who were nice enough to be photographed with me without charging me extra. I will post these photographs when they are developed, but it might take me a while before I use up the film in the camera.
First I met Ms. Rothrock, whom I greatly admire for her record-breaking accomplishments as a competitive martial artist and as an action movie star. She was lovely and personable to meet. We had a brief conversation, in which I learned that when she trained in Tang Soo Do, her grandmaster was the same as mine, Grandmaster Jae C. Shin. I mentioned that my Sifu trained under Master Bow Sim Mark in Boston, and Ms. Rothrock replied that she had always admired Master Mark as a woman's role model in the martial arts, and wished she had trained with Master Mark while she had lived in Boston. Ms. Rothrock was kind enough to pose for a photograph that my friend Darren shot with my APS camera (thank you Darren!). She was even kinder to join me in assuming a fighting stance for the shot. I cannot wait to develop the shot and post it.

Second celebrity I met was Mr. Dourif, who plays Grima Wormtongue in the film trilogy The Lord of the Rings, as well as other memorable roles, such as Billy Bibbit in One Flew Over the Cuckoo's Nest (1974), Piter DeVries in Dune (1984), and Chucky in the Child's Play/Chucky series. Although we did not converse as much I did with Cynthia Rothrock, I had the impression of a warm and easy-going guy, who appeared to appreciate his fans, i.e., me. He seemed happy to pose for a photo-opportunity with me, which again Darren shot. I was beside myself with excitement to be in that shot, as I greatly admired and was moved by his surprisingly sympathetic portrayal of Wormtongue in The Two Towers. Again, I anxiously await the opportunity to post this shot.

Third, I introduced myself to Mr. Carradine, most notably the star of the 1970s classic television series "Kung Fu" (1972), as well as the follow-up series, "Kung Fu: the Legend Continues" (1993). When I mentioned that I had been studying kung fu for five years, he glared at me with what may have been either annoyance or seething hostility. I remain puzzled at that. Nevertheless, I persisted in purchasing an autographed publicity photo and asked him to pose in a photograph with him. When I heard that it cost extra, I checked my wallet and decided that I did not have enough cash, so we left. Later that day, someone advised me that he is often grumpy like that. Who knew?

Another highlight of the day was the evening costume contest. The clear winner: Gollum! A child, or a proportionally-sized midget, used a mask and costume to convincingly impersonate the wretched former-Hobbit corrupted by the power of the Ring who appears in Lord of the Rings: The Two Towers (2002). I will post a photograph if it comes out well.




4-4-03
CORRECTION from 4-3-03 entry: the rescued POW's name is Jessica Lynch, not Jane Lynch.
Also, I noticed in the news that Hollywood is indeed swooping in to acquire the rights to the story. If they make a blockbuster of it, it should honor the brave Iraqi citizen, whose identity has not been disclosed, who aided the daring rescue at great personal sacrifice and cost to himself and his family.





4-3-03
The website for the 2003 Garden State Games (click me) is now up, although I did not notice any photographs posted thus far. However, it does summarize the results of the tournament, including a nice little blurb synopsizing my story.


Some thoughts on that... the other day, I watched some video footage of my weapons and forms divisions performances from the tournament. I see now why I landed third place in weapons instead of second, which went to my classmate, Barry Sharpe. Not only was I not moving my broadsword (dao) quickly enough, my footwork tempo was too slow and cautious. There were sections where my tempo inexplicably hastened, which I did not notice during my form. I will work on this. Meanwhile, I have already taken steps to quicken my broadsword mobility, by recently purchasing a new spring steel dao, which is noticeably lighter and sounds better while cutting through the air than my old broadsword, which is heavy, stiff, and chrome-plated, and not audible except for the flags made of silk fabric that I bought from the Rag Shop.
Also, my forms performance in the forms division had more problems besides the fact that I missed an entire section. Like my weapons form, my tempo was rather sluggish, my root was so-so, and my tornado kicks were somewhat sloppy. I consider myself lucky that I got away with first place given my imperfections.


My Sifu was kind enough to tell me that when I competed for the Grand Championship, my form improved significantly. Barry agreed. They said my moves were crisper, my tempo was faster, I seemed more motivated. Sifu said it was probably the best performance of that form he had ever seen me do.


My one regret is that I cannot pinpoint exactly what details I got right, or where I improved from my preceding performance, because there is no video footage! Curses! While I have the opportunity to learn from my mistakes, I find myself unable to learn from my success. No, that is an exaggeration. I have learned that in order to perfect my form, it helps to have extra motivation to push myself. Root those stances, and move. Pause at the tall rooster stances, and then look with the eyes before making the next move. Full extensions, straight knees on those low tiger stances. Be on fire. When I was competing for Grand, that is what I must have been doing. I felt on, that I was in control, landing my jump kicks with perfect balance, as though I had discovered I was the Chosen One from The Matrix. At the same time, I was not worried about winning. I had already guessed that the judges would pick the other guy, no matter how well I did. I wonder if that is what made the difference between my Grand Championship performance and my forms division performance. I can never be sure, but I will work on making my form performances more consistent.


Some thoughts on world events:


YAY! That our Coalition forces rescued the POW, Private Jane Lynch, from Iraqi captivity. That story will form the subject matter of a great movie some day.


OOOH! With regard to the new Sea Monster found near Antarctica. It is a rare collossal squid, half-grown at 330 lbs, with eight legs and two tentacles as long as large snakes, reportedly armed with hundreds of killer hooks that set it apart from other squids. It also has the suction cups common to squids. In addition it has a parrot-like beak, plus eyes the size of dinner plates. Its eyes are the largest eyes of any animal on the planet. I read that it glows in the dark when it is hunting its prey, to illuminate its target. They say it makes the so-called giant squid look like the calamari appetizer at Olive Garden. Congratulations to the fishermen who caught it without getting hurt or killed.





3-23-03
GARDEN STATE GAMES 2003 KARATE/KUNG-FU CHAMPIONSHIPS at the Middlesex County Vo-Tech in East Brunswick. Results!!!!
As previously announced, I competed with the Chinese broadsword in the Intermediate and Advanced Adult Weapons division, and also competed in the Advanced Adult Empty-Hand Forms (Kata) division. I landed third place in Weapons. Second place went to my classmate Barry Sharpe, who also competed with the boardsword. First place went to a karate practitioner who wielded twin nunchaku. His form included some flashy, difficult moves including some jump-spinning kicks, tornado kicks, and some impressive nunchaku combinations while in a supine position sliding backwards.

Next, I managed to land first place in empty hand forms/kata, using Duan Da Quan (short range fighting) even though I mistakenly omitted an entire section of the form! I did not realize I had missed a section until I ended the form facing away from the judges. Ordinarily, the form begins and ends facing the judges. The difficult moves in my form included two jumping toe kicks, two tornado kicks, one tiger sweep (a low spinning sweep using a straightened back leg).

After I finished the empty hand division, my Sifu reminded me that as a first place winner I was eligible to compete for the Grand Championship trophy, which is as tall as my upper chest (I stand at 5'8"). I would have to compete against the winner of the weapons division, who used the twin nunchakus. I knew that he had also won first place in his own empty hands division, which was the Intermediate division, and figured that he was unstoppable.

I asked my Sifu what form to use for the Grand Championship. He suggested Gung Li Quan, one of the novice-level forms, because it contains strong upper-body moves that appealed to most karate practitioners, as most of the judges were karate teachers. However, he said to choose based on how I felt. I considered using Gung Li Quan, but I had seen the nunchaku-wielder compete and knew that I needed something more than that to compete against his many difficult moves, which included a no-hands kip-up, a frontal split, and various ground and aerial moves, to spice up his traditional karate. I decided, at the last minute, to rely on my Duan Da Quan, and to make sure I performed it correctly this time.

I was called to perform first, which I took as a bad sign. It is easier to leave a strong impression if you are the last to perform. Nevertheless, I ran through Duan Da Quan, this time without leaving out any sections. I was happy that I landed all the kicks in properly balanced rooster (one-legged) stances so that I was able to pause at each rooster stance. However, I expected the judges to favor the nunchaku-wielding karateka. He instead performed an empty-hand kata, and landed all the difficult moves flawlessly. I had already resigned to missing my chance for the big trophy and was ready to be satisfied with my third place and first place medals. However, I was amazed when my scores barely edged out my adversary's. Thus, I became the Grand Champion! I was given not only the big trophy but also a VCR and several photo-op's with my Sifu and my opponent, and also with the judges. I am expecting the photographs to appear in the Garden State Games website. As soon as the photograph is up, I will provide a link to it.

My school often performs well at these tournaments, but I do not recall anyone from my school ever having won the Grand Championship during the time I have belonged to it.

The rest of my classmates also fared well with several third, second, and first places.




3-16-03
NEW STUFF: Added to the Lists subsection of the Personal area are two more lists. They are Names of Non-Asian People that sound Asian, and the Seven Social Sins according to Ghandi and cited by Noam Chomsky.


I decided not to add the parody lyrics section because I took another look at the lyrics and they were not really all that funny.


Random Thoughts:


I had a thought yesterday while I was driving with some friends, one of whom works as a doctor and is often "on call" for work. Doctors that are often "on call" should be called "oncallogists" (pronounced like "oncologists", get it?).


In the late summer of 2002 I was traveling with a group of friends who happened to be Chinese, visiting a friend who works for Merrill Lynch. This friend brought us to his office for a tour after hours. I noticed that the company logo, the sign of the Bull, was everywhere. It was a clean and luxurious-looking office, which therefore led to me to thoughts of all of us running amok and creating a ruckus. It would be like letting a bull loose in a China shop, except that in our case it would be more like letting Chinese loose in a Bull shop.





3-12-03
I attended Steve Baum's funeral and burial services today. I had the opportunity to hear others' fond memories of him, some of which were very funny. Apparently, while he avidly enjoyed golfing, his golfmates liked to tease him about his self-taught "form" or lack thereof, by pointing out that he had a swing in his fault.


I got the impression from the services today that Steve was well-loved by his family, girlfriend, and relatives, and well-regarded by his friends and workmates. Another impression I got, which reinforced my own perception about Steve, was that he lived his life to the fullest. He worked hard and successfully as an attorney in corporate and securities transactions. Outside of work he was well traveled, having been pretty much everywhere in the world, particularly in the Far East and Europe, and enjoyed many well-rounded pursuits including all kinds of sports, literature, philosophy, music, . . . . most importantly he was there for the friends, family, and loved ones in his life.





3-10-03
I just heard that my friend Steve Baum suddenly and unexpectedly died this Friday, 3-7-03. He was kind, generous, and thoughtful, cunning of wit, fond of discussing philosophy and literature, loved music, and was always a good friend to me. He was one of the first of those friends of mine who took the time to see my band play, when I first started out my brief moonlighting stint as a musician. I wish I had spent more time with him within the past few years. On a positive note, I understand that he was vacationing with his girlfriend in Switzerland at the time, which suggests hopefully that his last days may have been happy ones. Steve, I salute your memory. In fact, I'm going to drink to your memory in just a moment.
On a related note, the Calendar section is being updated.





3-7-03
THE FOLLOWING IS INTENDED FOR YANG FAMILY TAIJI QUAN PRACTITIONERS AND CHINESE HISTORIANS ONLY.
When practicing the Taiji move known as "Playing the Pi-Pa (Chinese lute)", please keep in mind that it must not be confused with the other thing Chinese are known for playing, involving other people's beverages.


The "other thing" referred to above was noted as far back in China's history as the Warring States Period. In a recently discovered apocryphal version of Confucius' classic treatise The Analects, a little-known passage mentions Lao Tzu, the author of the Tao Te Ching and founder of the philosophy of Taoism. Taoism was not only the basis for Taiji Quan but was also the diametrical opponent and rival of Confucianism. Of the Taoist forefather, Confucius wrote (translated from ancient Chinese):

Me Confucius, funny as can be,
Me play Pi-Pi in Lao Tzu's green tea.



It has been speculated by Chinese historians that the above statement may have been authored not by Confucius, but by Confucius' closest disciples, possibly Mencius during his adolescent years, as a reflection of the penchant of the youngest of Confucian scholars to play puerile, yet effective, practical jokes on their Taoist counterparts. Moreover, the famous Chinese historian Ssu Ma Chian hypothesized that the "Playing the Pi-Pa" move from Yang style Taiji Quan was actually a mis-spelling, and in fact the move was never intended to follow the movement of strumming an ancient Chinese guitar, but instead served to train Taoist disciples for direct retaliation against their Confucian bitter rivals. This hypothesis would explain the slight lifting of the left leg during the movement, as well as the slow, relaxed exhalation as though with bodily relief.


Centuries later, the above passage would become translated into a more modern context, and simultaneously originated the tune to the well-known children's song "the Knick-Knack Patti-Wack" song, as follows:

Me Chinese, me play joke,
Me play Pi-Pi in your Coke . . . .



The remainder of the verse, less well-known, completes the chorus as follows:

. . . with a yin-yang black 'n' tan, give the monk a poke
Coke with Pi-Pi make you choke.



Most likely the lyrics were substituted with the better-known "This Old Man . . . etc." version for the protection of children, to eliminate references to sugar-contentrated cola beverages and beer cocktails.


On a side-note, when did the term "yin-yang" become an insult, or a pejorative term? i.e., "I've had it up the yin-yang with these bills!" "Mom, Billy called me a yin-yang!" "Billy, don't call your brother a yin-yang", et cetera. There was actually a line from an episode of the sitcom "The Wonder Years" starring the kid with the nasty mole in Austin Powers in Goldmember (2002), where the somebody actually called somebody else a yin-yang as an insult. Also: "Shove it up your yin-yang!" A Taiji Quan practitioner's response to such an insult would have to be: "Huh?"


OK, MOVING ON NOW . . . .


NEW STUFF: More photo's in the following Martial Arts articles: Kung Fu Glossary, Classical Fencing Glossary, Yin and Yang comparative applications.


MORE THOUGHTS: I will probably add a new section under "Fun Stuff" devoted to original song parody lyrics.


DISCLAIMER: In case this is not clear by the context of the articles themselves, none of the Martial Arts articles are intended as "how to" instructional manuals or advice on handling self-defense situations in any way. They are merely my own thoughts that occur to me upon reflection about training in various martial arts styles. If you choose to rely on any of the information herein to influence your own conduct or judgment in any way, you so choose at your own risk.


ANOTHER DISCLAIMER: If this website somewhere happens to contain a photograph of you, a link to information about you, a statement containing a reference to you, or otherwise any mention of any information about you in this site, and you object to its being shown here for any reason, please let me know (see "contact the author" link below) and I will gladly remove it, or edit you out, as I may deem appropriate.


Conversely, if I am missing some pertinent information, references, photos, graphics, quotes, etc. in any of my articles that you think should be added, or if you would like me to consider adding a link, article, photograph, comment, or anything else to this website, please let me know and forward me whatever it is you would be so kind as to contribute. The easiest way to get your views heard on this site is to submit an entry in the Guestbook (see Guestbook link below), but if your contribution will be more than a couple of paragraphs of text than please follow the Feedback/Contact the Author link below.





3-3-2003
NEW STUFF: I will add an article under the Martial Arts section with regard to the Chinese Taoist concept of yin and yang, and how the concept is applied differently in Taiji Quan versus Northern Shaolin and versus Tang Soo Do karate. I will start writing it today but I may or may not finish it in time to post it today.


With regard to the Garden State Games later this month, I will only be entering two divisions: adult men's advanced empty-hand kata, and adult men's advanced weapons. I will not be entering the synchronized-kata team division since not all prospective members of the proposed team were available. Maybe next time....


Recently, perhaps it was 2-27-03, I added two 1998 photographs to the main Martial Arts page under "Multimedia". One features wushu legend Master Hu Jiangqiang and the other features Shaolin missionary Master Shawn Liu.


Congrats to the Pakistani law enforcement in capturing the Al Qaeda "mastermind" Whatshisname! It's nice to hear good news for a change. No matter what Al Qaeda will say about it, it can't be good for them.





2-23-2003
NEW STUFF: In "Martial Arts Resources", additional fencing terminology and an article regarding Defenses against Grabs. In general, some corrections to improper links internal to the site.
Also new, in the Kung Fu & Fencing page within "Martial Arts Resources": animated GIF of a fencer, facing an non-animated GIF of a Chinese dragon. Is this cute, or annoying? I cannot decide. It stays until I get decisive feedback.


In other news, I will most likely be competing in three divisions at the upcoming Garden State Games at the East Brunswick Vo-Tech on March 23, 2003: advanced adult men's empty hand kata, advanced adult men's weapons, and advanced men's adult team forms (subject to confirmation with two possible team members).





2-21-2003 marks the on-line debut of this Newsletter / Weblog.


This website has been significantly reformatted since its prior incarnation at cyberwar.com. New Stuff: An expanded Martial Arts Resources section, which is now the primary focus of the site. This reflects the fact that Martial Arts is also the primary focus of my life outside of work. I am no longer moonlighting as a rock musician, nor would I want to at this time. Acting as assistant instructor, which began approximately two months ago, is consuming too much time to allow a serious pursuit of the rocker's life. Hence, the Martial Arts section will include glossaries on different combat systems and styles, new essays or research articles, and possibly in the future a regular "self-defense application of the month" column.

Also new: the material on the word/nickname "Orange" is now combined with "Anagrams" and my Dream Journal into a "Miscellaneous Fun Stuff" section. Plus: my brief family history page from "High Noon" has been moved into this "Personal" section.


Another addition: Wish lists and other Lists is brand new. The Wish Lists might seem like I am begging to be spoiled (and I am, of course), but actually the purpose is to assist those who might look for a gift for my birthday or Christmas and prefer to ask me what I would like, but also prefer not to have to ask me and ruining the surprise. I got the idea from my brother, who posted a wish list on Amazon. I have been making use of that wish list for every gift occasion since he told me about it. Other Lists serves as partial replacement of my former "Daybreak" section, which contained a rambling description about my tastes in music and movies, and preferred activities. In many ways, this Newsletter / Web Log also serves as a partial replacement of the "Daybreak" section, or perhaps even an improvement, since it is easier to update.
Deleted Stuff: No more "Prologue" and "Epilogue". The "Epilogue" feature (which included an "open-ended statement" of some kind that reflected the "mission statement" that was in the Prologue) was mentioned as one of the outstanding qualities that resulted in earning Tipi's Thirteen Pole Salute for Website

Quality back in 1997. However, my focus and mood have changed since then and it no longer seems applicable. Also discarded is my "Philosophical Rants" section, which at least one person, "Lozzo" out in the United Kingdom praised in his guestbook entry for this site. Although it will be missed, I feel at this time it must be set aside for lack of worthy material. If I become inspired in the future to post further Rants, I may reinstate it at that time.

I also tossed the "stages of progression from daybreak to midnight" format, which upon hindsight was unnecessarily complicated. The site needs to be simplified so it can be more easily maintained and updated with greater frequency.

Now on to actual "news" for the "Newsletter" aspect of this Weblog . . .


It is not a happy newsday here on the East Coast of USA. In North Carolina, little girl is suffering irreversible brain damage, after bravely struggling to remain alive to receive eplacement heart and lungs after having the originally-transplanted organs removed due to mismatched blood type. Elsewhere, in Rhode Island, at least 95 people have perished in a urning nightclub, due to a fire attributed to the stage pyrotechnics of 80s metal band Great White. And in Staten Island, New York, a massive gasoline barge exploded, resulting in two deaths.